Café Coffee Day (abbreviated as CCD) is an Indian café chain owned by Coffee Day Global Ltd (Earlier known as Amalgamated Bean Coffee Trading Company). Coffee day Global Ltd. is a Chikmagalur based company which grows coffee in its own estates of 12,000 acres (4249 hectares). It is the largest producer of arabica beans in Asia exporting to various countries including USA, Europe and Japan. Café Coffee Day was started as a retail restaurant arm of CGL in 1996. The first CCD outlet was set up on July 11, 1996, at Brigade Road, Bangalore, Karnataka. It rapidly expanded across various cities in India adding more stores with more than 1000 cafés open across the nation by 2011. In 2010, it was announced that a consortium led by Kohlberg Kravis Roberts would invest  1,000 crore (USD 200 million) in Coffee Day Resorts, owned by the company.The same year, the logo was changed to the current logo, which the company stated was to showcase the chain as a place to talk.This was done with major changes in the layout of the stores, including the addition of lounges and a total revamp of the interiors. The company is known for being vertical integrated to cut costs: from owning the plantations, growing the coffee, making the coffee machines to making the furniture for the outlets. As of March 2015, there are 1530 outlets across 29 states of India. Café Coffee Day has also expanded outside India with its outlets in Austria (Vienna), Czech Republic, Dubai, Malaysia & Cairo, Egypt.
The Begining..
Café Coffee Day wasn't started as it is seen now. It was a cyber cafe back in 1996, the first ever in Karnataka. After finishing his internship in Mumbai, V.G. Siddhartha started his coffee growing and trading company called Amalgamated Bean Coffee Trading Company Ltd. in 1993. He clubbed the two and then there was our very own, CCD.The journey of opening over 1500+ cafes in 200+ cities and towns of mordern India and being the first to launch the "coffee bar" concept in the country wasn't easy for the man who has now become an inspiration for his young customers. Siddhartha once said "A lot more can happen over coffee"  which has become the tag line of the company.
The Journey…
The Success Story of Café Coffee Day goes back to 1996, when the foundation to what we know as Café Coffee Day was laid. It was just another venture by V.G. Siddhartha in addition to way2wealth securities. Siddartha was then just an analyst with JM Financial in Mumbai. He had inherited Coffee farms spread across a huge expanse of 12,000 acres.  It was a true example of his genius when he combined technology and coffee to start Café Coffee Day, first one at Bangalore in 1996. Initially Café Coffee Day was positioned as an Internet café as Internet was just in its infancy in India. Along with Internet he planned to serve coffee to keep the surfers fresh. These were just a few tiny steps that were taken by him towards his dream that was still in its infancy. He was not happy with the low margins of coffee sales which fluctuated often and were dependent on international market forces. It was this dissatisfaction which led him to give a better marketing platform to his coffee business by even delivering the coffee experience to the end user himself! Thus was born Café Coffee Day which is owned by Siddhartha's Amalgamated Bean Coffee Trading Company Ltd. (ABCTCL).ABCTCL is one of the largest Coffee exporter in India and all supplies of CCD as Café Coffee Day is popularly known is procured from its farms.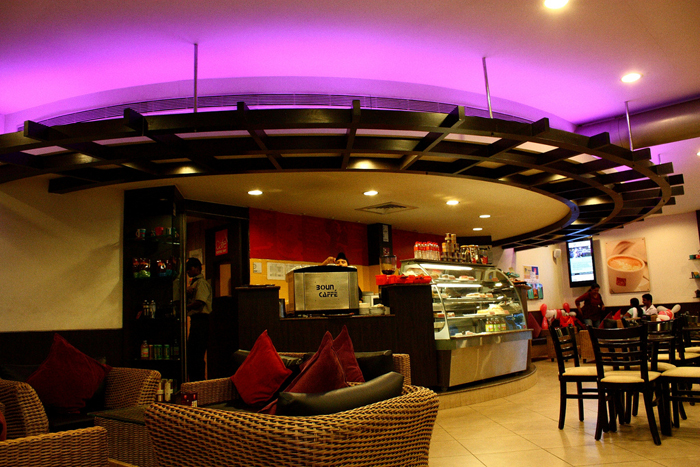 Subsidiaries..
In June 2010, CCD acquired Café Emporio, a café chain from the Czech Republic. Café Emporio has 11 cafés in Czech Republic. While 7 of them are in Prague, 1 is in Brno and Olomouc and 2 are at Freeport-Hate.
Café Coffee Day's divisions include:
Coffee Day Fresh 'n' Ground, which owns 450 coffee bean and powder retail outlets
Coffee Day Square, a high level coffee bar in Bangalore, Chennai, Mumbai, New Delhi
Coffee Day Xpress, which runs 900 plus Coffee Day kiosks
Coffee Day Beverages, which runs over 14,000 vending machines
Coffee Day Exports, its exporting wing
Coffee Day Perfect, its fast-moving consumer goods packaged coffee division
Coffee Day B2C Plant, Coffee vending machine manufacturing division
Accolades…
Named "most popular hangout joint amongst youth" at the 3rd Global Youth Marketing Forum in 2011.
The Indian Hospitality Excellence Awards also named it "India's most popular coffee joint" in 2011.
Café Coffee Day was ranked 125th among India's most trusted brands by Brand Trust report in 2012.
With this story we are sure to believe that , A lot more can indeed happen over coffee..