There are many civilizations in the world where respect for women and their role in society are prominent, and others where regard for them and their status should be improved. They should be regarded in a way that allows them to live in honor for their importance in society with respect and protection, and given the opportunity to reach their real potential in life. When we talk about Indian women, we must bear in mind that we have broken many social barriers and have reached a point where we stand at par and at time ahead of our male counterparts. We are not just homemakers, but we make sure that we take equal care of our work and grow proffessionally and personally at the same time. We are best at multitasking and can wear many hats at the same time. Women have proved that they can very well handle the economics of the business as much as they can manage the home accounts. Today as a token of our appreciation we have tried to put across the stories about some promising Women entrepreneurs who have the potential and skill to make it big in the near future.
 Suchi Mukherjee (Founder and CEO- Limeroad)
Founder & CEO, passionate about building consumer technology products, selected as 1 of 15 women worldwide 'Rising Talents, high potential leaders under 40'. Ex-eBay, Skype and Gumtree. Suchi had a dream- A way to find gorgeous, affordable products in an extremely easy to discover interface.Before founding LimeRoad.com, Suchi have worked with companies like Skype, Gumtree, eBay and Virgin Media. Suchi post graduated from London School of Economics and graduated from St. Stephen's College, Delhi. Suchi came from a family with no business background and after spending 18 years of studying, living and working in the UK, 39 year old Mukherjee decided to come to India start an online business especially for women and this is when LimeRoad came into existence.
Anu Sridharan (Founder NextDrop)
NextDrop is an innovative company which helps Urban Indians to track the availability of pipeed water through SMS. The company is currently serving more than 18000 people in Karnataka.Anu has Bachelors in Civil Engineering and a Masters in Civil Systems Engineering from the University of California, Berkeley to her credit.NextDrop began by tackling the problem of erratic water supply – in most of urban India, water is available only a few hours at a time or a few times a week, but residents have no way of knowing when. Working with operators in the field, NextDrop sends text messages 60 minutes before water arrives in your tap, while also offering utility boards the tools to better manage and track leakages in water supply. Anu Sridharan was 23 years old when she became CEO of social startup NextDrop in Hubli- a town some 500 kilometers from Bangalore in Karnataka. Anu has also been selected to the Forbes "30 Social Entrepreneurs Under 30″ list.
Aditi Gupta (Founder Menstrupedia.Com)
Aditi co-founded Menstupedia.com in 2012 along with her husband Tuhin Paul.  It aims at educating girls and women about periods and breaking the various myths attached to this taboo subject.Aditi is a post-graduate in New Media Design from National Institute of Design, and graduated in Electronics and Instrumentation Engineering.In past Aditi has worked in Ford foundation as research associate and user experience designer in other two companies. She was also recently listed in Forbes India '30 under 30′ list for her efforts in making the masses aware about the myths attached to menstruation.
Priya Naik (Founder Samhita Social Ventures)
Founded in 2009, Samhita is an organization that helps corporations, donor agencies, NGOs, individuals and philanthropists collaborate with each other for social impact on a huge scale.Prior to Samhita, Priya co-founded The Spark Group, an education company that delivered affordable education to low income communities. Priya's interest in social entrepreneurship began when she worked as a Researcher at the Poverty Action Lab at the Massachusetts Institute of Technology (MIT) in Cambridge, USA. At MIT, Priya was part of two student-led start-ups – Aerovax and Kalpataru. Aerovax is a company that created safe, inhalable aerosol vaccines that could be delivered without the use of needles while Kalpataru dealt in delivering innovative, low-cost technology to increase the efficiency of microfinance institutions. Both these social startups won several awards at MIT.
Ajaita Shah ( Founder and CEO Frontier Markets)
Founded in 2009, Frontier Markets has focus on energy products and is connected with microfinance partners in Karnataka. She has an experience of over 5 years in Microfinance with esteemed organizations like Ujjivan Financial Services and SKS Microfinance behind her back. Ajaita was also awarded with the title of being the most influential leader under 30 in microfinance by Business Week, and  Business Week's 30 under 30 award, and most recently, Forbes Magazine's Top 30 Under 30's Social Entrepreneur of the Year. Her company Frontier Markets has an aim to be the scale solution for manufacturers creating goods for the rural markets of India. Ajaita trains locals to educate and sell to rural households. The company has sold 10,000 solar solutions to date. Ajaita has worked on numerous development projects in 7 states in India.
Sheetal Mehta Walsh (Founder Shanti Life)
Shanti Life is a very unique microfinance platform aiming at serving the poor in Gujarat slums and villages so that they can create sustainable businesses. Sheetal is also co-founder of MetaCert -a for-profit company that provides products and services for family safety online.Sheetal with her social venture Shanti Life has done tremendous job for rural population in India, especially in Gujarat. Sheetal funded a Ahmedabad Sewing School in Vatva, Gujarat, which is poorest of the poor community who lost everything in fires during the 2002 riots.
Leila Janah (Founder and CEO Samasource)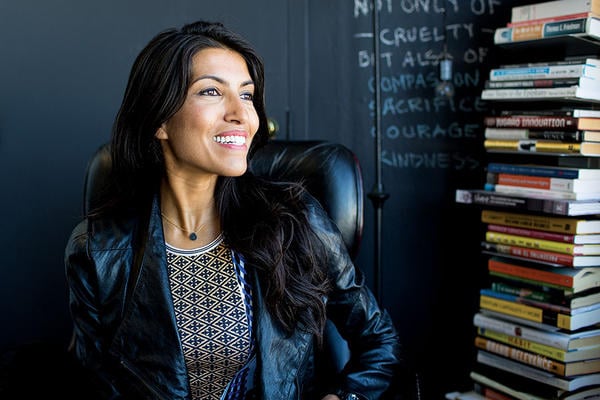 Samasource is a company which makes use of a very unique microwork model to bring dignified employment to the world's poor in the digital economy by breaking down small computer based tasks from larger projects. Samasource provides free, specialized technology training via 16 centers in nine countries, including India, Pakistan, Kenya, Haiti and Uganda. Leila has graduated from Harvard University with a degree in Development Studies and worked as a management consultant with Katzenbach Partners but left the job in 2007 to become a visiting scholar at Stanford University and eventually in 2008 she founded Samasource (then called Market for Change).
Gloria Benny (Co-founder Make a Difference)
Make A Difference is one of India's largest volunteer networks.It majorly works to tackle the complex socioeconomic inequalities that prevail in India. Her social venture MAD has won millions of hearts and honors like the Ashoka Global Youth Social Entrepreneur Award, India Shines award, Karmaveer Puraskar and a Global award from Nobel Peace laureate, Martti Ahtisaari.
Saloni Malhotra (Founder DesiCrew)
An organization with over 300 employees who are focused and determined to create knowledge based livelihood or employment opportunities in rural areas and small towns. She stepped down as the CEO of DesiCrew in March 2012 and handed over her duties to a professional management team but she continues to be a part of the board. Saloni also co-founded Safecity in 2012 which is a citizen's initiative to make Indian Cities safer again. Desicrew now has now four rural offices — Udupi, Apakoodal and Kollumangudi and employs 300-odd people from these villages. he has been nominated for Business Week Asia's Best Youngest Entrepreneurs, MTV Youth Icon 2008, E&Y Entrepreneur of the Year 2008 and also facilitated in the presence of the President of India by the CII. She is the recipient of FICCI's Best Women Social Entrepreneur Award (2009) and TIE Stree Shakthi Award (2011).
Pooja Warier (Co-founder of UnLtd. India and Bombay Connect)
UnLtd. India is a premier incubator for social entrepreneurs in the country while Bombay Connect is India's only co-working space dedicated to social change. She even has Journeys for Change, which is a travel company aimed at inspiring leaders into social enterprise through journeys. Pooja worked with a range of organisations and initiatives like the World Social Forum & M.V. Foundation. She has a MA in social work from the Tata Institute of Social Sciences in Mumbai.
These are living examples to certify that the journey might be tiresome and at times you might want to give up, but if we keep our grit and determination intact, no one can stop us from acheiving what we have set our foot at. We are the women of today and we shall create a bright future for the generations to come. All that the Indian Startup ecosystem  needs to do is to give the women of this country equal opportunity. Because as the Vedic saying goes, "yatr naryasto pojyantay, ramantay tatr devta" . This country will prosper only when the Women contribute to the goal.