Are you looking for the best TikTok alternative in India? TikTok is the highest downloaded app in the world, but sadly the platform is banned from Indian markets. The ban was enforced without warning, leaving thousands of creators desiring a replacement for the app.
Luckily, the Indian app market possesses some great video-sharing apps identical to TikTok. While some of them are internationally based, many are homegrown. These apps provide a great platform to all TikTok fans and give them a space to show off their creativity.
These apps have enough users to make them marketable platforms capable of providing large communities to people. They come with inbuilt filters and editing features. They also contain various audio libraries for users to select from.
Creators can easily download them from their phone's respective app stores and start using them after a simple registration.
10 Best TikTok Alternatives Available In India
The Indian app market has no shortage of TikTok Alternatives. Creators can find a number of apps to post videos of their makeup look, dance routine, and other content.
Even celebrities endorse many of these apps, making their followers trust them and feel safe using them. So, let's get started with our list of the top 10 best TikTok alternatives that you can use in India.
1) Instagram Reels – The Go-To TikTok Alternative App For Many Creators
The majority of users on the internet own an Instagram Account. The app began as a photo-sharing portal but currently houses numerous different features. The Reel feature was added to it in 2020 and became an instant hit in India. The feature supports videos from 15 seconds to one minute long. 
People prefer Reel because it offers a global market to showcase their products. It is a trusted site containing a vast library of licensed audio notes and music numbers. Users can download an extra app to use reels. They can easily access it within their already existing profile.
2) YouTube Shorts: The Short Video-Sharing TikTok Alternative Service By YouTube
A year after TikTok was banned in India, YouTube came out with its own short video-sharing section. The platform has been enjoying a monopoly as an online video upload website, but short clips were not promoted on it. Shorts became a separate section on YouTube where users can upload 15 seconds to 1-minute videos. 
With a user base as big as YouTube, Shorts is a great option to showcase your work. These videos are shot vertically and have an interface similar to TikTok. Users also get some filters and other basic choices; however, don't expect excessive filters or premade audio on the app. 
3) MX TakaTak: India's Very Own TikTok Alternative
MX TakaTak is a TikTok alternative that was created shortly after the Indian Government banned TikTok in 2020 on account of cyber security. TakaTak is a great alternative in India created by MX Media & Entertainment. It follows the same idea and design as TikTok, making the process of shooting videos effortless. The app is now known as Moj Lite.
This TikTok alternative was made for the Indian markets and came with some unique perks. The app contains filters, transition features, a video editor, and more. Users can tag their videos in local languages like Hindi, Bengali, Marathi, etc., to reach their target audience. They even have desi trends specific to the platform, usually connected to Indian culture and festivals. 
4) Chingari: Indian-Made TikTok Alternative App With A Reward System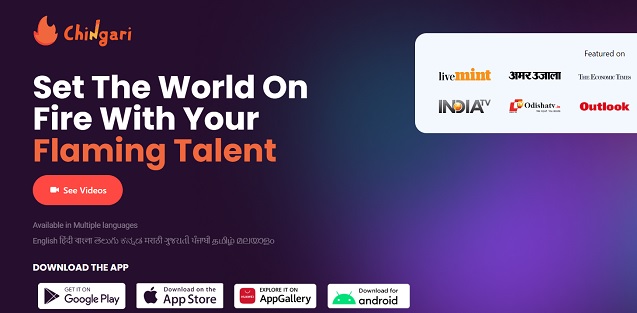 Chingari is an Indian app that is an excellent replacement for TikTok. A team of mechanical engineers and media professionals has created the app. The app has a user-friendly interface similar to TikTok, with amazing filters and a vast song library. Being an Indian app, Chingari offers 20 languages in the audio categories. 
Chingari also has a reward system, giving points for every action taken on the platform. Once a user collects enough of Chingari's crypto tokens called "Gari," they can cash it out for actual money. Fans can gift points to their favorite creators as well. Superstar Salman Khan is the brand ambassador of the app. 
Also Read: Best Apps Like ThopTV – 5 Alternatives to ThopTV In 2022!
5) Moj: A Successful TikTok Alternative For Indian Consumers
Moj is a Bangalore-based app, earlier known as the Mohalla app. The previous name was based on its parent company Mohalla Tech Pvt Ltd. Mohalla Tech is also the parent company of ShareChat. 
The app has different kinds of effects, filters, and other add-ons that can be used to spice their videos. The length of the videos uploaded on the app can vary from 15 seconds to one minute. People can create many different kinds of videos and support around 15 regional languages. The app has been downloaded over 100 million times from the play store. 
6) Josh: The App Promoted As The "Instagram For Bharat"
Josh is an Indian TikTok Alternative that was released after the ban. It was initially marketed as the "Instagram for Bharat" by its creators. The app supports twelve different regional languages like Bhojpuri, Kannada, Gujarati, Marathi, and Odia, and was launched by a Bangalore-based company, VerSe Innovation. 
Users can upload videos that are as long as 120 seconds. They can share a prerecorded clip or remix it using the app. The app contains videos created on various activities and viral trends. The app is very similar to TikTok regarding its operation, earning it over 150 million monthly users. 
7) Triller: The United States's TikTok Alternative App Competing With TikTok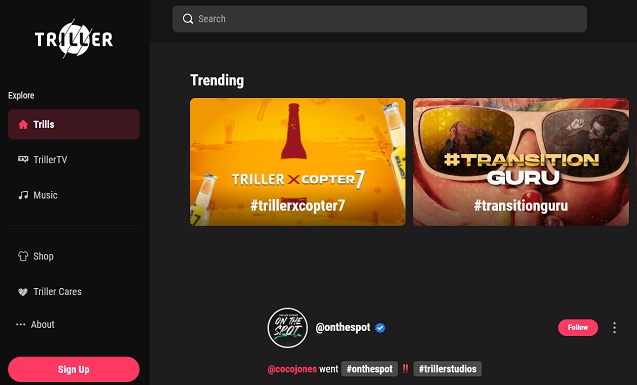 Triller is an American counterpart on TikTok. It became popular in India after the China-based app was banned in India. The sportspeople and celebrities like Jake Paul and Mike Tyson promoted the app. Triller also self-promoted it as a diverse app, promoting African American creators. 
Users can create and upload small videos using the app's AI, which automatically syncs their video to matching music. People can opt not to use the automatic feature and manually edit their videos on the app. The app can also add interesting effects to videos, making them more exciting and attractive. 
8) Roposo: A TikTok Alternative App Created By Three IIT Alumni
Roposo is a TikTok Alternative owned by an Indian company called Glance, a tertiary group of InMobi. The app was established in 2014 by Relevant E-solutions Pvt. Ltd. Three graduates from IIT Delhi, Avinash Saxena, Mayank Bhangadia, and Kaushal Shubhank, came up with the idea to launch the app. 
Roposo offers a platform for users to upload their content and show it off to other users. The app has the option to categorize your video, making sure it lands on the correct person's homepage. The tags available on the app include topics like comedy, food, music, fashion, and more. Users can easily maneuver the app due to its simple and easy design. 
9) Mitron: A TikTok Alternative App Inspired By "Atmanirbhar Bharat" Campaign
Mitron is another TikTok alternative in India created after the 2020 ban. It is heavily inspired by the "Atmanirbhar Bharat" campaign and was launched by Anish Khandelwal and Shivank Agarwal. The app comes with numerous filters and effects, with over 15 content categories that give users a wide variety of themes to choose from. 
Users don't even need to create an account on the platform; they can use their Facebook or Google accounts to log into the app. Mitron is said to have a stringent moderation policy, making sure that it provides a safe environment for users and creators. 
10) Bolo Indya: A TikTok Alternative App Aimed To Convert Social Media Capital To Monetary Independence
Bolo Indiya is an Indian version of TikTok, which was initially known as "Bolo Live." The app can not only be used to upload short videos but also broadcast live streams. This 2019 Harayana-based company offers a payment system to aid creators in earning money for their content. Fans can buy virtual gifts for their favorite creators, which they can cash out in real money. 
The app has some special features like dual streaming and a leaderboard. With dual streaming, a user can go live from their account and another user simultaneously. At the same time, the Leaderboard showcases the leading creators of the week.
Final Words
Indian consumers have enough apps to satisfy their imaginative side when it comes to creating short videos. There are numerous different TikTok alternative apps available in India that provide similar services or even better services than TikTok.
Apps like Chingari, TakaTak, and Moj are made specifically for the Indian market, offering content in regional languages. People can also choose to cater to the international market by using Instagram Reels, YouTube Shorts, and Thriller. We hope this article will help you find the best Alternative that suits your needs.
Appcraver.com(c).