If you're wondering whether the pikashow app is safe for android devices and if it's legal or not, then you have come to the right place. These types of apps are mostly illegal as they do not have official permission to stream all the series and movies, and even though these are illegal platforms, people still continue to use them.
It's primarily because they get a lot of free content and who doesn't love watching shows and movies for free? However, not everyone is willing to pay the OTT platform subscription fees. And that's understandable.
So we go on the internet and simply search for movies or shows to 'watch online for free.' And what do we discover?
Scam websites and sales landing pages asking to add weird extensions we don't need. The rest will give us five minutes to watch before requesting a premium subscription. This necessitates a platform that enables us to watch movies and web series without paying a subscription, but that's not safe. Just like that, there's a platform called PikaShow.It's getting pretty popular lately, but it comes with risks.
Is PikaShow trustworthy & reliable? Is it safe for my data and privacy to use? Also, is it worthwhile? There are too many questions, but we do have the answers for you. First, let's talk a little about PikaShow and its features.
Everything We Know About The Unauthorized Streaming Platform PikaShow
With PikaShows, you can watch shows and movies online. But even other platforms does that, right? Well, PikaShow actually offers these services for free. It might be doubtful why it even allows us to watch shows and movies for free.
It is unlike any other free online streaming service in that you can stream and download HD content. There is a wide variety of content available, including premium TV shows, movies, and even live cricket matches.
With PikaShow, you can find something to suit your tastes. As a free streaming platform, it is well organized and allows you to seamlessly move between Hollywood movies, Bollywood films, and Live TV channels.
Not only do you get access to Netflix-like subscription platforms like Amazon Prime or Zee 5 for no cost at all – but if sports are more your thing, then rejoice! You have real-time access to the likes of Sports Stars Network, Zee Television channel, and much more from one place.
It has a sleek, clean, and user-friendly interface that allows you to navigate different categories easily. Swipe bars let you change the playback speed, audio, brightness, and video settings. And overall, spectators believe it's a good option for them. But we have a different opinion.
Features of The Pikashow Movie App
Our team of experts utilized the app and examined PikaShow in-depth, and we discovered that it includes many features and it's not a recommended app in the Google play store, making it risky to use. After downloading and testing the most recent version of the app, the features we found are promising but totally risky. One of our experts didn't have an uninstall option. Does that make PikaShow risky? Without a doubt. But let's have a look at the features that the application offers.
Compatibility – PikaShow is compatible with all Android devices, including smartphones and tablets, so there are no quality compromises or lag issues. On all devices, you will get the same premium streaming experience.
Get a theater experience –  With PikaShow, you can stream movies, sports, and TV shows on the big screen. Its screencasting feature allows you to watch the content on TV with the same quality. PikaShow also works with Firestick and Android TV.
Watch Offline –  PikaShow allows you to download any content for free. You can now binge-watch by streaming online and watching downloaded content offline in the same quality.
Subtitles – You have the option of watching with subtitles. Enable the subtitles that are downloaded by default. If subtitles are unavailable for any content, PikaShow provides the option in the app to download subtitles from the internet.
Is Pikashow App Safe For Android Mobile Users?
According to the official PikaShow website, their application is safe and does not violate user privacy or copyright laws, however nothing can be said for full certainty as the app is illegal and is not completely safe. It also states that the security of the users' data is their top priority. However, many users have frequently reported problems with the app.
Firstly, the PikaShow app does not have content on its platform, and the users that stream the TV shows or movies are not on its platform. Instead, PikaShow redirects them to different platforms for streaming the content.
As far as we could tell, PikaShow is accessible through the Play Store for download, but PlayStore will display a pop-up security warning since it is a third-party application, breaches copyright, and engages in piracy.
And it already means that the application is unsafe, and Google Play is already giving out warnings. If you are concerned about data privacy and digital security, modern smartphones already have a built-in security system. The only request PikaShow asks for is permission to download.
It does not request permission to access any data or location. It does not make any changes to your operating system. For your own satisfaction, after downloading, go to Settings, Permissions, and click on the PikaShow to see if additional permissions are granted, and you will find none.
But still, even while downloading the application, it can be risky to your privacy. If you're giving the application permission to download, it may contain viruses and security breaches.
Also Read: How Does Grammarly App Works? Features And Versions Explained
What Did Quora Reviews Say About PikaShow App?
Our team searched and found these actual reviews that users posted on Quora. One of the reviewers says that PikaShow is entirely safe when used sensibly. The app is not available to download from Play Store, and your phone might also display a pop-up notification to warn you to uninstall this app.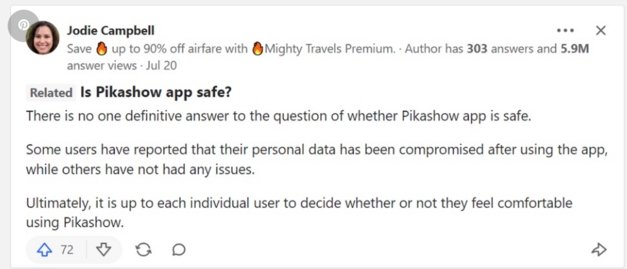 But the app is safe to use and should be downloaded from the official website. That's like a positive review, right? But do you believe downloading it is safe and worth risking your privacy?
Another person stated that the app is dangerous and illegal. According to this, PikaShow violates Indian copyright law, and streamers who use it engage in illegal activity.
Another reviewer recommends using subscription-based OTT platforms rather than pirated, illegal, and illegitimate websites like PikaShow.
Why We Do Not Recommend Installing The Pikashow App
Many users also posted that there cannot be a definitive answer. PikaShow is not available on the Play Store for download because it violates copyright laws and is illegitimate for its piracy. This section will talk more about why you should not install PikaShow.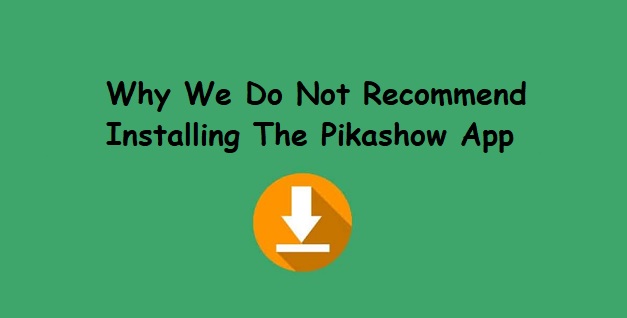 PikaShow may appear appealing at first glance. Where can you find a free app to watch TV shows and movies, download any content, and watch with subtitles?
Using third-party platforms like PikaShow, you engage in unethical and illegal practices such as piracy. These apps do not contain any content. Instead, the app directs users to various websites. PikaShow clearly violates Indian copyright law. You can read the full article below.
That is, even if PikaShow does not harm your data, there is no reason to believe that the websites to which you are being redirected will not. Even if PikaShow is legitimate in some way, it does not prove the platforms it uses are.
The reviews that users have shared about PikaShow are quite parallel in some sense. While some are really happy to have an application and stream movies, web series, and live sports for free, others feel concerned about the illegitimacy of the application.
One of its users posted a review that, once installed, PikaShow was pretty hard to uninstall. It required a third-party application to uninstall the app. There wasn't an option for uninstalling but disabling, which will keep the app on the mobile anyway.
If you were considering downloading PikaShow, you should consider your decision. Consider paid subscription-based platforms such as Disney Hotstar, Zee5, or Netflix if you enjoy binge-watching. This way, you not only help the original artists get credit and end piracy, but you also remove any doubts about your own digital security and privacy.
To Conclude
No doubt, PikaShow is one of the recommendable apps by spectators for streaming movies, TV shows, and live sports online for free. But it's not safe. Indeed, PikaShow is easy to use, user-friendly and has a sleek user interface.
But as our team found out after going through hundreds of reviews, many consumers found the app malicious and were skeptical about data privacy. And even if PikaShow is safe, you need to stream on different links it gives you, which might be unsafe.
The app violates Indian copyright laws and practices piracy . By using it, you might help them do it. Hence, we recommend not using it. And be aware if you already have the application.
Appcraver.com(c).